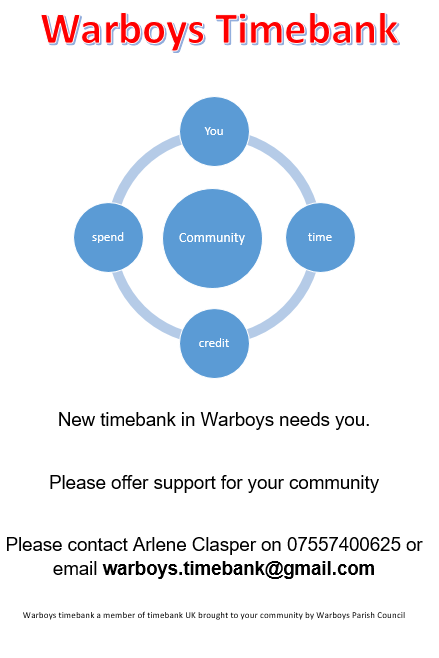 Warboys Timebank
a member of Timebanking UK
My name is Arlene Clasper and I have just been appointed by Warboys Parish Council as the new Timebanking Coordinator for Warboys. The Timebank would like you to be a part of making your community come together.
We are looking for individuals in Warboys and the surrounding community to become members of Timebanking. Timebanking is not about paid services but about helping your neighbours and friends in their time of need, and about strengthening the community by connecting people.
What is Timebanking? Timebanking is about sharing our time to help others and earning credits for the time given. One hour of time is equal to one credit. The individual with the credits can then use this credit towards an hour of someone else's time for something that they may need help with. Alternatively, they can save up the credits and use this at another time. I am also working with organisations and businesses in the area so that credits can be spend on activities or treats.
Examples of support that may be required within your community are: Dog Walking, Cleaning, Cooking, Gardening, Shopping, learning a new skill such as a language or musical instrument, transport, reading, writing and computer skills to name just a few.
If you think that you could spare a little time or would like to find out more, then I look forward to hearing from you
Please contact Arlene Clasper on 07557400625 or email timebank@warboysparishcouncil.co.uk
Timebank Documents